Pilzpfad (Mushroom path)
Over hill and dale, through woods and meadows and even along a small brook, you can discover all kinds of things on this tour. First and foremost, the huge mushrooms that have been skilfully carved out of tree trunks. Information boards reveal more about these silent forest dwellers. Watch out when the coasters whiz past you!
Difficulty: easy
Starting point: Hoch-Imst car park (bus stop)
Duration: 1.5 hours
Length: 4.2 kilometers
Highlights: a detour to the reservoir lake or a jump into the cool water of the bathing lake
Jägersteig PATH
This easy and entertaining but extremely varied hike takes about half an hour from the mid-station next to the Untermarkter Alm. The route's natural highlight is the wild-romantic Jägersteig path with wooden stairs, a giant rock boulder and a half-open rock dome. Finally, at the Latschenhütte young and old explorers can enjoy the legendary sweet Hüttenschmarrn (shredded pancakes with raisins and sugar). Return along the same route.
Difficulty: easy

Starting point: mid-station (uphill ride by lift)

Duration: approx. 40 minutes each way

Info: the Jägersteig path is not pram-accessible

Highlight: the 3.5 km long ride with the world's longest alpine roller coaster back into the valley
Untermarkter Alm

Known by its fans as the UAlm, the cosy hut with its spacious sun terrace is the perfect place to stop right next to the mid-station and the Alpine Coaster. In addition to the culinary delicacies, the wine list is also very appealing.
Overnight stay possible
Latschenhütte

Traditional, quaint, and simply cosy. In a relaxed atmosphere, landlady Waltraud takes care of the physical well-being of her young and older guests, with a lot of heart and passion. "Hüttenschmarrn" (shredded pancakes with raisins and sugar) and dumplings taste twice as good on the sun terrace!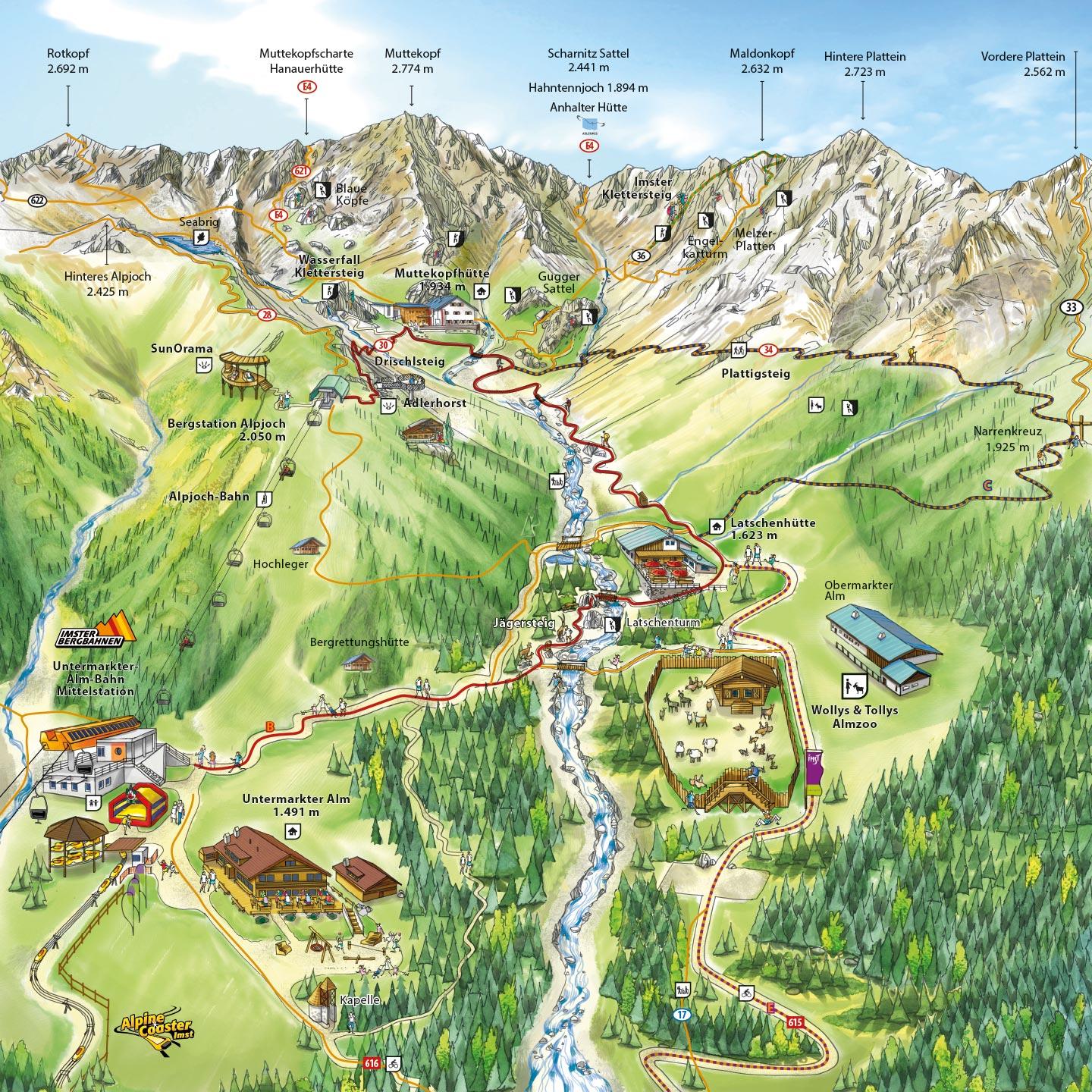 The price is right

Are your children particularly difficult to inspire for the next family hike? Then a ride on the Alpine Coaster, the longest and most spectacular Alpine roller coaster in the world, might be just the right motivation! After all, there has to be a reward ...
Lift Prices
Cablecar

(2003 and older)

Youths + Seniors

(2004 – 2006)
(1958 and older)

Children

(2007 – 2016)

Families

(parents + own children born
2004 – 2016)

Uphill or Downhill Ride
Section I or II
€ 12,10
€ 10,60
€ 6,60
€ 30,80
Section I and II
€ 18,20
€ 16,00
€ 9,50
€ 45,90
Uphill and Downhill Ride
Section I or II
€ 17,60
€ 15,50
€ 9,20
€ 44,40
Section I and II
€ 26,40
€ 23,20
€ 13,70
€ 66,50
Further Offers
6 days
€ 80,00
€ 64,00
€ 40,00
€ 200,00
Seasonal Pass
€ 150,00
€ 120,00
€ 75,00
€ 375,00
Alpine Coaster
Adults

16 +

Children 3-5 years

Children 6-15 years

Alpine Coaster
1 ride
€ 10,50
€ 7,60
€ 7,60
3 rides*
€ 29,90
€ 21,70
€ 21,70
10 rides*
€ 94,50
€ 68,40
€ 68,40
Alpine Coaster + Lift
1 ride
€ 17,60
€ 7,60
€ 13,20
3 rides*
€ 50,20
€ 21,70
€ 37,60
10 rides*
€ 158,40
€ 68,40
€ 118,80
Further summer activities